Stone Production Line
The aggregate plant is used to crush ores in mines and make aggregate for construction industry, water conservancy projects, urban construction, and construction of railways, roads and bridges. The efficiency for crushing materials like granite, basalt, quartz, shale, limonite and other materials is especially high.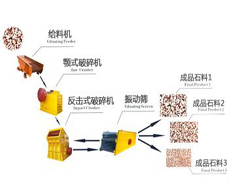 Description:The aggregate plant is widely used to produce aggregate made from limestone, granite, basalt, etc.
It is widely used in areas of sand making, metallurgy, etc.
In order to satisfy the requirements of aggregate production in the market, the plant has been installed with the most advanced machines. The aggregate produced by the plant is in good shape and with uniform size.
Features:1.High degree of automation. 2.Easy to operate. 3.High productivity and efficiency. 4.Large capacity. 5.Good-shaped and uniform-sized finished products. 6.The plant can be customized to satisfy different needs. 7.The machines are designed by applying the most advanced technologies in the world and the plant is energy-saving and environmentally friendly. 8.Each machine is an individual working unit.
Composition:The plant comprises the vibrating feeder, the jaw crusher, the impact crusher, the VSI crusher, the vibrating screen, the sand washing machine, the belt conveyor, the central electric controller, etc.
Working principle:Firstly, stone blocks are fed into the jaw crusher for primary crushing by the vibrating feeder. Secondly, the crushed stones will be sent into the impact crusher for secondary crushing by the belt conveyor. After it, the crushed material is sent to the vibrating screen for screening. During the process, the crushed stones will be classified into various types. The gains can be mixed and classified according to different requirements. Devices to collect the dust are optional.