Belt Conveyor
The separator can be used to remove extra stone powder in making sand under dry conditions, in cement making, slag separation, etc.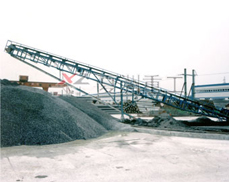 Description:The belt conveyor is widely used in mining, metallurgical and coal industries. The transportation system can be with one or several conveyors or the conveyor(s) connected with other transportation equipment according to various requirements.
Friction-driven, it can be used to transport unconsolidated or piece materials like coal, little stones, sand, cement, fertilizer, cereals. The pack density of the material should be within 1.67T/m³.
Except the function we mentioned above, the conveyor produced by our company can be also used in pebbles and sand making industries.
The conveyor can work at the temperature(-20℃ to 40℃ ) while the temperature of the materials should be less than 50℃.
Features:1.Modern design. 2.Advanced technical parameters. 3.The material is of high quality and durable. 4.Large capacity and long belt. 5.Simple structure and easy to maintain. 6.The screen made from spring steel or with punched holes is durable..
Working Principle:The motor drives the roller to move. In the meantime the belt and the material are driven because of friction force. The material is unloaded when the roller is loaded.
Belt Conveyor Technical Data:
Belt Weight
(mm)
Belt Length(m)
Power(kw)
Belt speed
(m/s)
Capacity
(t/h)
400
≤12
1.5
12-20
2.2-4
20-25
4-7.5
1.3-1.6
40-80
500
≤12
3
12-20
4-5.5
20-30
5.5-7.5
1.3-1.6
40-80
650
≤12
4
12-20
4-5.5
20-30
7.5-11
1.3-1.6
130-320
800
≤6
4
6-15
5.5
15-30
7.5-15
1.3-1.6
280-540
1000
≤10
5.5
10-20
7.5-11
20-40
11-22
1.3-2.0
430-850
1200
≤10
7.5
10-20
11
20-40
15-30
1.3-2.0
655-1280