Rounding Vibrating Screen
Vibrating screen is widely used in mining, construction, transportation, energy and chemical industry.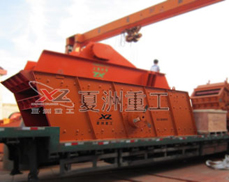 Introduction:The vibrating Screen is specially designed for separating aggregate in the quarry. It is widely used for classifying materials into various sizes for further process in areas like mining, building, energy, chemical, coal, hydropower, food industries.
Features: 1. The screen has a reliable operation, long service time and regular vibration. 2. The volume can be easily controlled by the vibration generator. 3.The motor, working as the vibration source, produces low noise and is energy-saving.4.The machine with a simple structure is easy to install, operate and maintain.5.There is little powder released into the air with the well-sealed structure.
Composition:The machine comprises the case, the vibration generator, the supporting device, the motor, etc.
Working Principles:The eccentric part of the vibration generator is driven to rotate at a high speed by the motor through the V-belt. The case moves in a circle under the force generated by the eccentric part. The material on the sloping screen will be thrown upwards continuously with the impetus generated by the case. During the process, the smaller particles will get through to realize the grading.
Advantages:1.The furious vibration of the case can prevent the material from blocking holes. Based on it, the screen has a high productivity and screening effect. 2.The screen is durable, and easy to operate and maintain with the simple structure. 3.Reduced noise level.
YA rounding vibrating screen series of technical parameters:
Model
Numebr
of Deck
Sieve Area
(m2)
Sieve Pore
Size
(mm)
Sieve Surface
size
(mm)
Max.Feed
Edge
(mm)
Processing
Capacity
(

t/h

)
Vibrating
Fequnency
(r/min)
Double-
Amplitude
(mm)
Motor Power
(kw)
Weight
(excluding
electric
motor)(t)
Overall
Dimensions
(L×W×H)
(mm)
2YA1230
2
3.70
3-50
1220×3050
200
10-90
800-970
8
5.5
2.34
3502×2127×1868
3YA1230
3
3.70
3-80
1220×3050
200
30-90
800-970
8
7.5
3.05
3538×2168×2245
2YA1542
2
6.10
5-50
1500×4200
200
50-180
970
8
15
5.33
5081×2573×2660
2YA1548
2
7.10
5-50
1500×4800
200
50-190
970
8
15
5.50
5745×2573×3367
3YA1548
3
7.10
5-50
1500×4800
200
50-200
970
8
15
6.08
5909×2573×3367
4YA1548
4
7.10
5-50
1500×4800
200
50-200
970
8
18.5
6.75
5909×2573×3845
3YA1848
3
8.70
5-80
1800×4800
200
50-250
970
8
18.5
6.93
6072×2970×3366
4YA1848
4
8.70
5-80
1800×4800
200
50-260
970
8
22
7.10
6072×2970×3845
2YA1860
2
10.8
5-80
1800×6000
200
50-280
970
8
18.5
7.20
6965×2971×3971
3YA1860
3
10.8
5-80
1800×6000
200
50-300
970
8
18.5
7.70
7129×2971×3744
YK rounding vibrating screen series of technical parameters:
Model
Numebr
of Deck
Sieve Area
(m2)
Sieve Pore
Size
(mm)
Sieve Surface
size
(mm)
Max.Feed
Edge
(mm)
Processing
Capacity
(

t/h

)
Vibrating
Fequnency
(r/min)
Double-
Amplitude
(mm)
Motor Power
(kw)
Weight
(excluding
electric
motor)(t)
Overall
Dimensions
(L×W×H)
(mm)
4YK1860
4
10.8
5-100
1800×6000
400
80-320
850
8
22
8.2
6417×3439×4276
2YK2160
2
12.8
5-80
2100×6000
400
100-330
850
8
30
7.5
7005×3470×3654
3YK2160
3
12.8
5-100
2100×6000
400
100-380
850
8
30
8.2
7172×3528×4133
4YK2160
4
12.8
5-150
2100×6000
400
120-430
850
8
30
10.3
7326×3545×4523
2YK2460
2
14.4
5-150
2400×6000
400
100-380
850
8
30
8.5
7010×3796×3654
3YK2460
3
14.4
5-150
2400×6000
400
160-450
850
8
30
9.2
7176×3816×4133
4YK2460
4
14.4
5-150
2400×6000
400
160-450
850
8
30
12
7328×3896×4523
2YK3070
2
21
5-150
3000×7000
400
150-600
850
8
18.5×2
16
7970×4465×4764
3YK3070
3
21
5-150
3000×7200
400
150-650
850
8
22×2
17
8225×4582×4822